1. Zentrum für Traditionelle Europäische Medizin Bad Kreuzen
Bad Kreuzen 106
4362 Bad Kreuzen
Upper Austria, Austria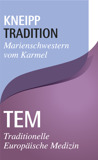 Immerse yourself in a world full of spirituality and humanity in the 1st Center for Traditional European Medicine in Bad Kreuzen, and let the ancient art of healing of Europe take hold of you - interpreted in a modern way! You will leave our house relaxed and invigorated for everyday life.
In order to live up to this high standard, doctors have been trained in Traditional European Medicine (TEM) for several years and special therapies have been developed. The TEM philosophy runs throughout the house and is noticeable to the guest in therapy (TEM reflexology), in food offer, in TEM lectures and in many other details that create a very special atmosphere.
The sunny location of our house on Maria-Hilf-Berg also stimulates and makes you want more. 150 kilometers of hiking trails in the wild and romantic surroundings of the Mühlviertel give you an intensive nature experience. Our excellent cuisine with light and healthy food and sauna and swimming area invite you to relax.
Focus: TEM - Traditional European Medicine, Health, Kneipp and Hildegard von Bingen, Archetypes, Therapy, Humoralmedicine, Naturopathy, Relaxation, Tranquility, Spirituality, Spiritual Medicine, Nutrition, Theory
Special features: Austria's largest Kneipp garden, Barefoot course and over 100 medicinal plants, swimming pond, 1st TEM food pharmacy.