Hotel Bayrischer Hof & Hotel Alexandra
Dr.-Schauer-Straße 21-23
4600 Wels
Upper Austria, Austria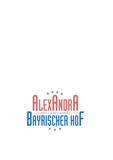 Your hotel in the heart of Wels - Hotel Alexandra and Hotel Bayrischer Hof
You are planning a city trip and are looking for a hotel in the city center? Or are you searching for a hotel for a seminar or a conference?
Whether it's a family holiday or a business trip - the three-star Hotel Bayrischer Hof and the four-star Hotel Alexandra will make you feel right at home from day one.
Enjoy the Austrian hospitality and first-class cuisine in your hotel in Wels.
The train station and the Wels exhibition center are within easy walking distance. Our hotels are ideal starting points for trips in the area.