Juffing Hotel & Spa
Hinterthiersee 79
6335 Hinterthiersee
Tyrol, Austria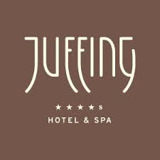 Sustainable behavior plays an important role in our family-run Juffing Hotel & Spa.
The products used in the Juffing kitchen come mainly from regional production. We value seasonal products. We are very proud of our organic certification (AT-BIO-301).
The products in the Juffing Spa come from the cosmetics company Vinoble in Styria and contain no emulsifiers, preservatives, perfumes, mineral oils, silicones, dyes and amines.
The heat in the hotel is produced using the latest condensing technology. With the help of a solar system on the roof of the new wing, we save valuable fuel.
Since December 2010 we offer two rooms completely furnished with pine wood with wooden floor. The interior is made of 100% natural pine wood, which has been proven to lower the heart rate, ensuring a restful sleep. All other rooms are furnished with local nut and ash wood.
Together with our suppliers, we make sure to use reusable containers instead of disposable containers. We regularly train our employees in waste prevention and waste separation.