Landhotel Stockerwirt
Ramsebner GmbH
Dorf 195
4574 Vorderstoder
Upper Austria, Austria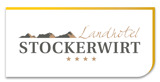 Landhotel Stockerwirt - beautiful views
Hiking and biking in the summer in the national park "Kalkalpen", skiing in the Winter in Hinterstoder nearby or trying exciting new winter sports in our region or just relaxing in our beautiful spa area - either way, you will be enthusted!
Our Landhotel Stockerwirt is located in the middle of the Phyrn-Priel region in Upper Austria with a mighty and breathtaking mountain view.
Our hotel as one of the top holiday spots in the Stoder-valley stands out with it's convenient location, with delicious culinary art, hearty hosts and a fine spa area.
Once discovered, you wil be drawn to visit us again!