VILA VITA Pannonia
Storchengasse 1
7152 Pamhagen
Burgenland, Austria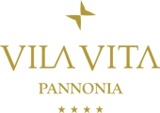 Our 200 hectare resort is located in the middle of the UNESCO World Heritage Fertö – Neusiedler See and is a perfect hideaway for relaxation and recreation.
Your sense of well-being is in first place whether you try one of our numerous sports activities, spend time in our family-friendly bungalows, relax in our spacious Wellness and Sauna-Parc, enjoy the beautiful view and a drink in our Panorama Lounge or have a delicious meal in one of our top-restaurants accompanied by wines coming from our richly-equipped wine cellar.
Honored with the national award of tourism – "Energy efficiency of the hotel industry and gastronomy" – in 2009 and in 2012 national award-winner of the category – "Solar construction".