Regitnig 4* Hotel & Chalets
Techendorf 33
9762 Weißensee
Carinthia, Austria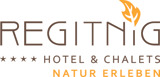 Where water and sky gently touch each other, where the landscape beckons with an enchanting spectacle, where the shores are as unspoiled as the people are hospitable, that's where we await you: at nature's playground, at Lake Weissensee.
Close to the lake, central and yet quiet. A sunny oasis of strength and silence - incomparable, unforgettable. As if made for a vacation at any time of the year - whether as a family, active or relaxing vacation - here is something for everyone.

Vacation in summer & winter - Family Eder & Team are your hosts at Lake Weissensee.
The Regitnig philosophy: genuine, warm Carinthian hospitality at the highest level coupled with sustainable use of resources.