Hotel Walchseer Hof
Dorfplatz 2
6344 Walchsee
Tyrol, Austria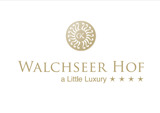 Sustainability and environmental awareness in the hotel Walchseer Hof
During our refurbishment works focussing on an environmentally-friendly, sustainable and lasting building design was dear to our hearts. The focus was on using Iso-span, which thanks to its particularly good insulation properties, create a pleasing, comfortable and sustainable room climate and is gentle on the environment. Thanks to this environmentally friendly material the hotel is able to "breathe" and therefore provides the basic requirements for a wonderfully warm stay in the Hotel Walchseer Hof in Walchsee.
Our heat pump also helps us to preserve the environment, where the majority of the energy is extracted from the ground water. Thanks to the heat pump our oil use is reduced by 3/4 of what we used to use. This means that we only provide fossil fuel heating at peak times in the winter! Our hot water is solely derived from our solar roof-top facilities and also from a heat recovery system. This means we provide comfortable ventilation and a constant supply of fresh air to our rooms. Solar energy is particularly efficient in the Kaiserwinkl region since the Kaiser mountains are among the most sunny areas in Austria in the summer.
An eco holiday in the Walchseer Hof at Walchsee
As your host it is important to me that it is almost solely regional produce which is used! We cook honestly and consciously, with respect for animals and the natural surroundings. This is why I get our meat, game and sausages from Metzgerei Huber in Kitzbühel, since they are able to guarantee that the animals have been reared by farmers in the region.
Why look elsewhere when there such good produce here? Shopping in the region also means shorter supply routes and this ensures freshness and is also easy on the environment!
Come to Austria with a clear conscious and enjoy eco-holidays and a sustainable style, geared towards looking after the environment. A sustainable and environmentally-friendly stay contributes to an all-round relaxing well-being holiday in the Walchseer Hof. Experience holistic tranquillity and relaxation and re-invigorate.
We are proud that the 4 star Hotel Walchseer Hof is able to say it is environmentally friendly and sustainable!