Boutique Hotel Hauser
Bäckergasse 7
4600 Wels
Upper Austria, Austria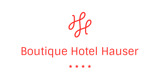 For more than 70 years this charming building hast belonged to our family, and its success is the outcome of our devotion to hospitality. Our dedication to tradition and innovation guarantees that our guests will have a delightful and pleasant stay in a unique atmosphere. The Boutique Hotel Hauser combines history and international architecture, design and emotion, hospitality and sophistication. Our hotel is our passion.
Thirty-seven non-smoking rooms provide many pleasant amenities. We are committed to creating a pleasant experience for our guests. Our five individually designed junior suites feature classical and contemporary design, where you can unwind in luxurious surroundings.
Meetings:
Our three distinctive meeting rooms feature state of the art equipment and are a perfect setting for your events.