Almwellness Hotel Pierer
Teichalm 77
8163 Fladnitz an der Teichalm
Styria, Austria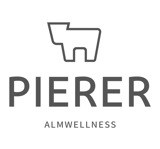 Almwellness Hotel Pierer****Superior – a four-star superior family business with a sustainable philosophy
Situated in the heart of "Almenland Nature Park" – Central Europe's largest connected mountain pasture area – Almwellness Hotel Pierer on the Styrian Teichalm has, since the very beginning, believed that the careful and sustainable handling of resources is of immense importance, not just for the hotel but for the whole region. And having been awarded the Austrian Ecolabel for Tourism, the Pierer family's dedication to this is clear to see.
The four-star superior Almwellness Hotel on the Teichalm has for a long time relied on the sustainable use of all resources employed in the running of the hotel. The Pierer family apply this approach not just to their own business, but also to the people they work with and to the surrounding region.
Above all, a deep love for "Almenland Nature Park" is of particular importance in this hotel. All over the house, from the food, to the facilities, to the spa area, the presence of the surrounding nature and, in particular, the region is palpable. For example, pieces of furniture made from Styrian wood from the nature park can be found there, as well as regional products in the kitchen from local suppliers and fragrant herbal oils from the mountain pastures in the AlmSpa and AlmGarden.
In addition, the house boasts a sustainable design that was successfully implemented with the help of Styrian construction companies using local materials. A wood chip heating system powered with wood chippings from the surrounding forests, as well as its own solar energy system just add to the list of eco-friendly facilities offered on the Pierer premises. When the building was renovated in May 2015, special care was also taken to use high-quality regional materials and the construction work was entrusted to a local family business from Fladnitz.
Living in "Almenland Nature Park" also means living from "Almenland Nature Park" — this is one of the basic principles of the family business. The family knows every single supplier from the area personally, like Franz Möstl, the cheesemaker who produces the famous Almenland Stollenkäse. This and many other culinary treats, such as homemade jams and spreads, can be bought by guests at the hotel's own farm-gate shop for sustained enjoyment at home.
Top quality and an eco-friendly policy throughout the whole company are the prerequisites for an Austrian Ecolabel for Tourism certification. And Almwellness Hotel Pierer meets these prerequisites in every respect.