Der Ponyhof***superior Familienhotel & Reitstall
Kirchenviertel 38
8673 Ratten
Styria, Austria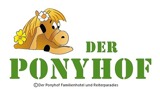 GREEN HAPPINESS
At the family hotel Ponyhof in Ratten, located in the region Joglland-Waldheimat in Styria, you are literally followed by luck: at the stables you will find about 20 horses and many other tiny animals, Tuesday and Thursday's we offer free pony rides for the little ones. Larger riders will enjoy the riding school, professional riding lessons or beautiful trail rides. Maybe even with your own horse?!
Additional moments of happiness are created by a lot of green around our cozy family hotel. Meadows, forests, mountains - we run a farm with 350,000 m². A green that we protect and preserve deliberately. Finally also our and your grandchildren should be able to enjoy the beautiful nature not only around our Ponyhof!
REGIONAL FLAVOURS
Heart is through his stomach! Our menu offers regional delicacies from Almo, St. Kathreiner Lamb, local mushrooms or berries just as imaginative international cuisine to the vital whole foods and vegetarian menus.
You or your child can not tolerate all kinds of food? In this case, our chef Brigitte prepares food tailored to your needs.
LOVING CHILD CARE INCLUDED
As soon as they can walk, your little one will be lovingly cared by trained kindergarten teachers - from Monday to Saturday! We go hiking through the lush meadows, including pony accompaniment, explore the forest, tinker with natural materials and, and, and ... ..
WHITE HAPPINESS
When the green around our familyhotel sparkles in sunny winter white, white happiness begins. Your children learn to ski with professional instructors directly infrontt of our hotel. Meanwhile, Mom and Dad ski themself, enjoy curling, romantic winter walks or relax in our small sauna area.