Forster's Naturresort
Pinnisweg 2
6167 Neustift im Stubaital
Tyrol, Austria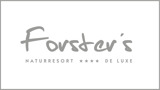 Experience nature - enjoy diversity
Become a nature discoverer with us and enjoy the diversity of our resort with hotel, herb farm, flower garden, natural bathing lake, deer enclosure and Forster-Alm.
We are a family business, in which today two generations contribute their knowledge and talents. Forster's Naturressort is not just an alpine four-star hotel. Our "nature resort" includes a private pasture in the Pinnistal, a fallow deer park, our herb farm with lovingly designed farm and a family chapel. Directly in front of our family-run hotel is our 3000m² natural garden with swimming lake. We offer weekly walks to the Forster Alm with snacks and music. We also offer various workshops and lectures on different topics in our herb farm.
We design, as far as possible, our culinary offer based on the "R50 principle", which is based on a simple philosophy: Whether breakfast, afternoon coffee, dinner or specialty buffet, our guests can enjoy special products and traditional delicacies, produced in a radius of 50 kilometers around Forster's Natural Resort.