Hilton Vienna Park
Am Stadtpark 1
1030 Wien
Vienna, Austria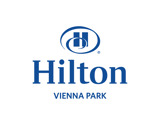 Hilton Vienna Park is Austria's largest Meeting & Conference hotel. The hotel is ideally located in the city centre within walking distance to the main sights and most fashionable shopping streets. The adjacent City Airport Train terminal provides a direct link to Vienna International Airport in just 16 minutes.
Hilton Vienna Park takes its commitment to the planet seriously.
Through 60+ sustainability initiatives - big and small – the passionate team is embracing Hilton's Travel with Purpose strategy with the goal to become Hilton's EMEA flagship for sustainability and wellbeing.
Travel with Purpose – Hilton's Environmental, Social and Governance strategy
As the world returns to travel, doing so sustainably and responsibly has never been more important. With growing impacts from climate change and the rising demand for sustainable hospitality options, Hilton is evolving its environmental, social, and governance (ESG) commitments, to help preserve the destinations where it operates. In 2018, Hilton launched "Travel with Purpose", an ambitious strategy aimed at cutting its environmental footprint in half and doubling its investment in social impact by 2030 through responsible hospitality across the value chain. These goals have just been reviewed in 2022 to include more ambitious environmental targets and new social goals to help drive more sustainable operations.
Learn more about Travel with Purpose at https://esg.hilton.com/.
Our Environmental Impact
Just a few of the many initiatives we have implemented at the Hilton Vienna Park are listed below:
100% of the electricity used in the hotel is water power generated
100% LED Lighting
Room Energy Management System
Solar window foil reducing AC energy consumption
Dual flush toilets
Water reducing showerheads in all rooms
Opt in linen & towel reuse
Bulk bathroom amenities
Cooperation with 'Too Good To Go'
No single use plastic bottles
Promotion of high quality Vienna Spring Water and Brita filter stations planned
Partnership with ClimeCo to carbon off-set all meetings and events taking place at the hotel
Best in class measurement system 'Lightstay' to track, analyse and report energy consumption
We carry the eco-label because...
... we are redefining sustainable travel by driving and inspiring positive social and environmental change across our operations, supply chain and communities.
Hilton has pledged to cut its environmental footprint in half and double investment in social impact projects by 2030.