Hotel IMLAUER & Bräu
Rainerstraße 12-14
5020 Salzburg
Austria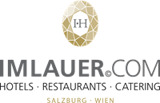 The typical Austrian hospitality experience is awaiting you. Conveniently located, easy to reach and close to the attractions of the old town of Salzburg. The Hotel IMLAUER & Bräu offers all the amenities of a modern city hotel, including a free wireless connection with the whole world. The Hotel also provides a wide range of variable conference rooms with modern technology and individual care.
The best of Austrian cuisine can be enjoyed in the brewery restaurant IMLAUER . Hearty and sweet delights in a cozy atmosphere with a cool Stiegl beer are served 365 days a year. For business and private events the ballroom, which can accommodate up to 250 people, is the perfect choice. A mobile stage, a dance floor and an entire event technology guarantee a successful event.
As in the region entrenched businesse the environment and sustainable management are particularly important to the whole IMLAUER company. The guests and the staff are actively involved in the environmental goals, by creating awareness many environmental protection measures have already been implemented.