Biohotel Rupertus
Hütten 40
5771 Leogang
Austria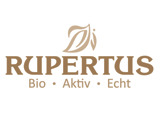 The 1st Bio certified Hotel in Leogang offers you everything that you could wish for during a holiday in the mountains. Whether summer or winter, here with us in Salzburger Land and neighbouring Tyrol every month has its magic and beauty. For more than 40 years, we consciously endeavour to ensure you enjoy this beauty during your holidays in the 4-star Biohotel Rupertus.
Organic is about life and is OUR approach to life. A conscious decision FOR nature. In the Rupertus Restaurant and at the GreenBAR you get to enjoy 100% organic produce. The 50 organic and natural rooms, Swiss pine suites and family rooms ensure you enjoy a deep sleep and are cosy.
"ORGANIC. ACTIVE. REAL" Our philosophy accompanies us in all of our decisions for and in our hotel and with our guests.