Austria Trend Hotel Bosei
Gutheil-Schoder-Gasse 7b
1100 Wien
Vienna, Austria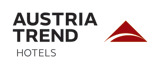 In the middle of the recreational area
The modernly designed Hotel Bosei is located directly in the recreational area Wienerberg, surrounded by spacious green areas and not far from the city center. It is the ideal starting point business travelers and city tourists.
The sports facilities in the vicinity of the hotel invite you to get your pulse racing. Enjoy the unique view from the hotel as a reward afterwards! At the end of the adjacent golf course, the Vienna Twin Tower and the Business Park Vienna form a striking skyline.
The city center can be reached quickly by public transport. By the way, if you start your trip environmentally friendly by train, Hotel Bosei will reward you!
Seminar offer
For meetings, seminars, presentations or private festivities, 7 banqueting rooms (42 m² to 186 m²) with access to the terrace are available for up to 150 people. Modern seminar technology and daylight in all rooms ensure that your event runs perfectly - whether it is analog, digital or hybrid. Free WiFi access is available in the entire seminar and restaurant area. All seminar rooms are located on one floor and are equipped with individually adjustable air conditioning.