The climate plate - solutions for a climate-friendly hotel kitchen
Everyone talks about climate protection, but what does that mean in concrete terms in the kitchen? The Austrian Ecolabel and the Austrian Hoteliers Association show how it can be done....
Climate protection and food
Many different studies come to the conclusion that our eating habits and our entire food system contribute significantly to the generation of emissions and thus also have great significance for our climate. Estimates put the share of global greenhouse gas emissions at up to 37 percent. Catering and hotel businesses play an essential role in this through the catering of guests.
But what is climate-friendly cuisine? Does it only mean less meat or even only vegetarian or vegan cuisine? That cannot be answered in two sentences. The goal is to significantly reduce the CO2 footprint without sacrificing enjoyment. This begins with the purchase, continues with the preparation and holistic utilisation of food and extends to the reduction of food waste.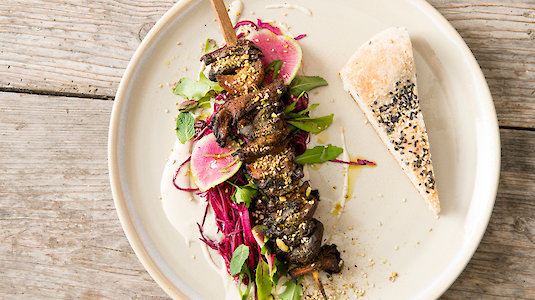 Climate-conscious selection of ingredients
A significant part of the emissions is already caused by the type of production and transport. It makes a big difference whether food is produced in a greenhouse or outdoors, organically or conventionally, whether it is transported by plane, ship or lorry, whether it comes from overseas or ideally only has to be transported regionally over a few kilometres. Thus, regional, organic and seasonal purchasing not only ensures lower greenhouse gas emissions, but also supports more holistic sustainability goals such as circular economy, biodiversity and regional value creation.
Therefore, it makes a big difference which food is on the menu. For example, eating 200g of regionally produced beef steak causes the same amount of emissions as driving 20-50 km by car - vegetables or other plant products, on the other hand, cause only a small fraction of emissions in comparison.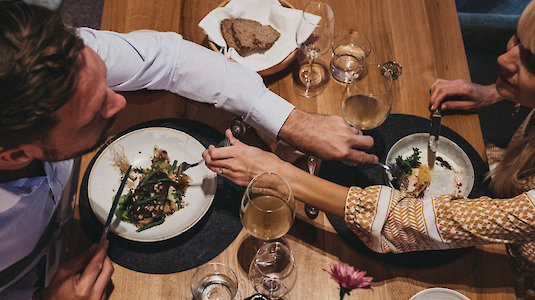 Climate-conscious preparation
Since the production and preparation of individual foodstuffs already involve enormous energy expenditure, all the more attention should be paid to avoiding waste during processing. Approaches such as holistic processing of the animal, as well as waste management and the right recipes can help.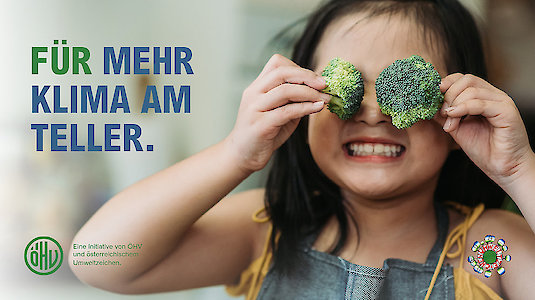 "Climate Plate" initiative
In order to address all these issues in greater depth, the Climate Plate initiative was launched. Over the next two years, many suggestions and useful tips for practice will be developed by processing background reports, facts and good examples, thereby creating awareness for a more climate-friendly hotel kitchen. "In 2019, hotel guests in Austria will have consumed 450 million meals. That's where every CO2 saving becomes an enormous lever. If we reduce the CO2 footprint at the average breakfast by just a quarter, we are already starting every day with a great success for the environment and tourism in Austria", outline Minister Leonore Gewessler and Michaela Reitterer, Honorary President of the Austrian Hoteliers Association, the enormous opportunities behind the joint action.
Exciting facts about sustainability in the hotel kitchen:
Hotel guests consumed around 450 million meals in Austria in 2018. In addition, there are the meals of day trippers and excursion guests, restaurant visits by Austrians in their everyday lives, communal catering (in large companies, schools, hospitals, etc.) as well as catering for celebrations and events.
Enjoying typical food/drinks of the region" is in 5th place among the non-sporting activities that Austrian holidaymakers plan to do during their holidays, at just under 40%.
Due to the climate change discussion, eating habits are also changing: Around 10 % of Austrians already eat a meat-free diet, and every fourth Austrian is a flexitarian and consciously reduces meat consumption. In Germany, the proportion of vegetarians and vegans is estimated at around 6%, with a rising trend in both countries. In 2017, there were almost 170 vegan restaurants in large and medium-sized cities in Germany.
The consumption of one kilo of regionally produced beef corresponds to emissions of 13-29 kg of CO2 equivalents. A steak meal (200 g) is therefore equivalent to a 20-50 km journey by car (on average 12 kg CO2/100 km).
Rice as a side dish also has high emission values. On the other hand, the use of seasonal vegetables, potatoes and cereals is positive for the climate balance.

Source: Dagmar Lund-Durlacher et al. in Tourism and Climate Change (2021)
Further information on the initiative can be found at www.oehv.at/klimateller.