Romantikhotel Zell am See
Sebastian Hörl-Straße 11
5700 Zell am See
Salzburg, Austria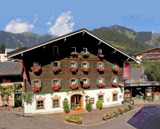 The Romantikhotel Zell am See is a 4-star hotel and has been awarded the eco-label.
Geothermal energy, photovoltaics, cleaning with the avoidance of chemicals (dry steam), avoidance of waste and regional purchasing are just a few of the building blocks of the environmental concept.
In our thoughts and actions, we carefully use the available resources and use them sustainably for the benefit of the next generation. We shape our future with sustainable vision, aware of our responsibility for people, the environment and society.