Hotel Goldener Berg
Oberlech 117
6764 Lech
Vorarlberg, Austria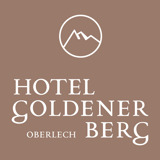 The Golden (Energy) Mountain - holistic selfcare for subtle cosmopolitans.
The Hotel Goldener Berg is located in an altitude of 1700m. In winter the hotel is car free, situated right on the ski slope, in summer surrounded by the magnificent nature. We take our guests into this beautiful nature with alpine bathing and tidal hiking, so everyone will feel their own roots again. We provide a healthy diet with products from local farmers (as many as possible). Our guests detox in the Alpine Spa area with organic alpine -, alkaline- and detox products. With energy work, coachings and energy medicine we support healing for body, mind and soul. The hotel offers 37 luxurious rooms "boho style", 4 restaurants, one of them fine dining with vegan - vegetarian dishes (3 toques Gault Millau) and 2 sun terraces. Furthermore, the Alpin Spa, the sensory path and the meditation platform are some highlights as well as a nearly 600 years old farmers house, which is the perfect location for mountain weddings with stunning views. One of our pillars is: everything can, nothing must.
Boho Lifestyle - meets alpine tradition - above the roofs of Lech
METIME: Time for yourself, arriving at your own roots, doing everything that feels good, meditations, alpine bathing, listening to the heart and tidal walks, a vacation all to yourself. The beautiful Alpine Spa with swimming pool, panoramic outdoor whirlpool, bio sauna, Finnish and Turkish sauna, Kneipp pool, fitness room, relaxation room, activation showers and tepidarium provides the setting for a relaxing time out. Our alternating therapists are here to get your energy flowing again, sports and guided body movement at all levels. Time, all to yourself, free, healthy, mindful. Discover your senses on our being path directly at the hotel.
Enjoy your METIME with one of our following packages:
Alpine DETOX, rest - outlook – purification 7=6
bookable until December 1st, 2023
Goal: This time of year is the perfect time to lighten the body and drain toxins of all kinds. You'll notice that it's not just your body that purges - physical blockages and mental patterns run away too!
Allow yourself a few days that only belong to you. All the toxins that have accumulated in your body, mind and soul over the past year are now allowed to flow away. Alkaline cuisine, treatments in the spa, daily yoga, conscious movement in nature support you in this process. If you wish, a trusted companion (coach) will accompany you before the vacation, through the vacation and, if desired, even afterwards. Me time at its best. Of course, also with your partner, your best friend and your beloved furry nose.
Your included additional services:
Including full board (alkaline, vegan or vegetarian), a light snack at noon.
We give you one night for free 7=6.
A consultation with our Selfcare guide
Two alkaline baths according to Dr. Töth (45 minutes each)
One salt wrap (45 minutes)
Detox treatment - 60 minutes (foot bath, foot massage, liver wrap, back massage)
Two detox body wraps (45 minutes)
Manual lymphatic drainage or alternatively a sports massage (50 min)
Daily varied program, such as daily yoga classes in the morning and evening, daily activity program such as: meditations, alpine bathing, guided hikes, walking the sensory path, chanting and much more...
A golden Me book to keep your thoughts and a giveaway
You can see all-inclusive services here
Recommendation
We recommend to arrive one day before the seminar begins and to departe not before the day after. This way you give yourself the space to gently integrate these intense experiences before you dive back into your everyday life.
Yoga Retreat #FREEDOM
bookable until December, 1st 2023
Goal: Spend a week finding total relaxation and peace within yourself and reach inner freedom at your own pace.
Your included additional services:
Your desired room for 7 nights as well as all golden inclusive services
We give you one night 7=6 starting from the category Superior Studio
Our 3/4 pampering board
A soothing Alpine Spa sports massage (25 minutes)
Varied program, such as daily yoga classes in the morning and evening, daily active program such as: meditations, alpine bathing, guided hikes, walking the sensory path, chanting and much more...
Golden Give Away and Me Book
You can see all-inclusive services here