Montforthaus Feldkirch GmbH Kultur Kongress Zentrum
Montfortplatz 1
6800 Feldkirch
Vorarlberg, Austria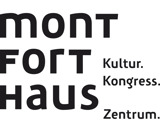 The City Marketing and Tourism Feldkirch GmbH is organisationally divided into four divisions: City Marketing, Event Management, Location Marketing andTourism Management. The four divisions help us to reach our goal of working out and communicating Feldkirch's peculiarities. Because what makes Feldkirch unique is our mission and our passion. Here we rely on the best possible networking of the numerous providers and service providers.
In our offices, we focus on efficient use of resources (e.g. paper), optimized waste management, energy saving (e.g. no standby of electronic devices), the use of renewable energy sources, fair trade or regional organic products and the use of environmentally friendly office supplies and cleaning agents. We motivate our employees to an environmentally friendly and sustainable action in their professional and private lives.
In organizing events, we pay special attention to the possibility of using public transport, optimized waste management for exhibitors and visitors (e.g. waste prevention and reuse), use of regional products, information and awareness of exhibitors and visitors, and social issues such as integration, accessibility and protection of minority groups.