Hotel Restaurant Höldrichsmühle
Gaadner Straße 34
2371 Hinterbrühl
Lower Austria, Austria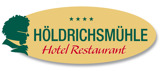 We are a 4-star hotel restaurant near Vienna (southern Vienna Woods) with a strong connection to music (Franz Schubert). Ideal for groups or individuals travelling to Vienna, or as a "countryside" extension to a stay in Vienna. Topics: music, culture, wine, walking. We would like to present our new offers.
The Hotel Restaurant Höldrichsmühle is located in the UNESCO Biosphere Vienna Woods only 17 km from Vienna city center. The family-operated hotel offers modern amenities combined with the historic atmosphere of a former mill. The composer Franz Schubert was inspired to one of his famous melodies "The Lindentree" at the Höldrichsmühle.
The hotel offers 50 rooms, restaurant, garden terrace, outdoor lounge, lobby-bar, sauna and fitness area as well as a horse-riding stable. Walking and cycling trails lead through the surrounding forests. Attractions such as the Seegrotte (Europe's largest underground lake), Liechtenstein Castle and the Heiligenkreuz Monastary are located nearby.
The Hotel Höldrichsmühle is accessible by public transportation. ountainbike and E-bike rental.
Conferences: The hotel is a popular venue for conferences and offers 7 well-equipped rooms and conference services.