Kinderhotel "Die Seitenalm"
Forstauer Straße 17
5550 Radstadt
Salzburg, Austria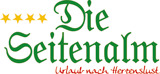 We are greatly concerned about smiling, happy kids because happy kids mean leisurely parents, experiencing great adventures together.
Attractions
the quiet location, outside the urban area at an altitude of 1.150 meters above sea level, 75 km south from Salzburg
28 attractions on the Seitenalm grounds (e.g. arcgery, trampolin, climbing rock, covered sand-play-hosue, pedomotive go-kart track, tennis court, football field, beach volleyball, etc.) on the 40.000 m² safe Seitenalm ground
600 m² indoor playground for fun regardless of the weather (Happy Club, Chill-Out Room, craft garage, kids-cinema, pond cottage and witch house)
Heavenly Service - Right at the Hotel and for Seitenalm guests only
Own Kids' ski land with a disk lift of 180 m, "magic carpet"
First steps in the snow and free play and fun with skis for kids of 3 years old "Bambinis in the snow" with professional care directly at the hotel
Kids' ski course for beginners for kids older than 4 years with ski school Resch´from Forstau in the own Kids ski land
Child Care
babylounge and baby care with 35 hourse a week from Monday to Friday, even during dinner
age-appropriate child care and entertainment in summer with 66 hours a week for children one year of age and over (Sunday to Friday from 9 a.m. until 8 p.m.) in winter with 77 hours a week for children one year of age and over (Monday to Sunday from 9 a.m. until 8 p.m.)
teenager entertainment in the school hoildays with 40 hours a week from Monday to Friday
family entertainment programme from Sunday to Friday for the entire family with Family Arnold
swimming classes for children and beginners with four years of age and over
Animals
daily pony riding on one of our 11 ponies and professional riding lessons for beginners and advanced riders
fishing in the hotel pond
animals at the Seitenalm farm - goat "Bärli", sheep "Uschi", rabbit "Hoppel", the guinea pigs "Franzl and Sissy", as well as the donkeys "Tschibo and Leo", and highland cows "Wendy and Linda"
Wellness
indoor-pool with seperate whirl pool and baby pool with slide
wellness complex awarded with 1 lily in the Relax Guide 2012 with sauna world, infrared saunge, quite room and outdoor-blockhouse saunas
panorama fitnessroom equipped with Techno Gym
massage- and beauty programme for babies, kids and adults
All-Inclusive soft drinks provisions:
from 8 a.m. to 10 a.m. a rich and varied breakfast,
from 1 p.m. to 5 p.m. warm lunchsnacks with salad and pasta buffet,
from 3 p.m. on afternoon cake and fruits,
from 6 p.m. onwards 5-course-menu by choice with salad buffet,
24 h alcohol free brand name drinks, Coffee specialities (Julius Meinl) and organic Sonnentor tea and our 101 Seitenalm included services