TN "Slovenska Plaža"
Trg Slobode 1
85310 Budva / Montenegro
Montenegro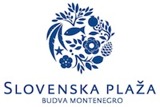 "Slovenska plaža" is placed in the very centre of Budva, it's a 10-minute walk from the ancient Old Town. The hotel has a seasonal working schedule; it is open from May to the end of October.
It is a single spot that pools everything which is needed for a pleasant vacation – from accommodation and food to recreation and entertainment. Restaurants, cafés, boutiques, mini-markets, a gallery, tourist agencies, dental and outpatient centres, hairdresser and beauty salons, sports courts, swimming pools – Slovenska Plaza is a town full of greenery in a small area.

Arrival by bus:
Budva is connected with bus lines with Serbia, Croatia, Bosnia and Hercegovina and other surrounding countries. During the summer season a lot of private buses and mini buses are transporting tourists to the desired destinations.
Bus station Budva: +382(33)456-000
There are local bus lines which transfer every hour from Petrovac, Sveti Stefan to Budva.