Holzhotel Forsthofalm
Hütten 37
5771 Leogang
Salzburg, Austria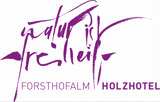 Hotel Summer & Winter General
The Holzhotel Forsthofalm offers individuality and freedom on the rooftop of Leogang in an absolute secluded position at an altitude of 1050 metres. It offers a mix of nature hotel, wellness, rooftop outdoor pool, organic food and a unique mountain life program with 3x daily yoga, fitness and five guided walks a week. The Holzhotel is located in the middle of the Leogang Bike Park and the hiking area in summer, as well as directly on the ski slopes and in the middle of the ski area, just 50 metres from the chairlift.
Sky Spa & rooftop pool
Above the rooftops you feel like you are in the whole Sky Spa. The rooftop outdoor pool is heated all year round and invites you to swim and chill out. Imagine lying in warm water and experiencing this unique mountain panorama that surrounds you on all sides. In addition to the rooftop terrace with comfortable lounge furniture, numerous yoga and fitness classes are held on the roof.
When you enter the Spanorama, the scent of local alpine herbs welcomes you and immediately you feel at home and arrived. Our treatments are individually tailored to you. Let your heart and your feeling decide which mood, which mood, suits you today. Be it Brain, Soul, Energy, Love or Muscel, it is the right decision and the massage will perfectly match your body and soul. Get involved, let yourself go, be yourself.
Oh well, the mountain life program is really unique. You will experience yoga and fitness classes with in-house trainers several times a day. Be it, depending on the weather, outdoor or indoor, it will certainly be challenging and fulfilling for you. Take part in the most modern programs like Outdoor Bootcamp, Hot Iron, Budocon Yoga and much more. It is free at the Forsthofalm and always takes place.
After an intensive day of adventure or outdoor activities, you will certainly look forward to a sensational dinner. In the Kukka restaurant you will find a creative selection of local products, which are prepared for you in an innovative and tasty way. Be it meat, fish, vegetarian or vegan, our range of organic food will convince and will be remembered.
If you want short distances to sporting activities, the Forsthofalm is the right place for you! Besides a perfect Ski In - Ski Out and 50 meters to the ski lift, the Forsthofalm is located in the middle of the Bikepark Leogang and in the hiking area of Saalfelden Leogang in summer.
Fancy skiing alternatives in winter? The ski rental directly at the hotel has touring skis for you to rent from this winter. Try this great sport. You can experience the snow and the winter landscape on the guided snowshoe hikes, winter walks, forest yoga, outdoor winter boot camp, as well as on a great toboggan run.