Juffing Hotel & Spa
Hinterthiersee 79
6335 Thiersee
Tyrol, Austria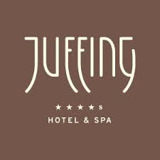 For our ****S hotel family business, acting responsibly plays an important role. We are constantly striving to make decisions sustainable and to develop positively. We will continue to pursue the path we have taken in many areas.
Juffing products in the kitchen
The food used in the Juffing kitchen comes mainly from regional production. We attach great importance to seasonal products. Our kitchen was awarded with the AMA-Gastro seal. In addition, we have already been awarded twice (2011 and 2018) as district winner of the "Bewusst-Tirol" businesses in Innsbruck for our regional commitment. We are proud of our organic partial certification (AT-BIO-301).
Juffing Products at the Spa
We have chosen our brand partners with care: The women's cosmetic products at Juffing Spa come from the bio-certified high-tech natural cosmetics TEAM DR JOSEPH, who combine their many years of experience in the use of highly effective natural raw materials with the latest technologies in harmony with nature and its resources. For men's main care we use EBENHOLZ, which uses tree extracts from biologically controlled production. Furthermore, we carry NATURAL SPA THERAPY products from PINO Naturkosmetik and use only essential oils from doTERRA®.
Heat and hot water at Juffing
The heat in the hotel is produced with the latest condensing technology. With the help of a solar system on the roof of the new building, we save valuable fuel. In addition, since 2019 we have been using two environmentally friendly 30 KW air-heat pumps to operate the underfloor heaters etc. one. Our swimming pool is heated in an environmentally friendly way by recycling the waste heat of the entire hotel (heat recovery).
Environmentally friendly journey to Juffing
On our homepage you will find the link for an environmentally friendly journey by train. We support all guests arriving by bicycle or train with a Green Spa bonus (Spa treatment voucher worth 10 cents per train or bike-kilometre, rounded to 1 euro, valid per room).
Natural furnishings at Juffing
Since December 2010 we offer two rooms completely furnished with pine wood with wooden floors. The interior is made of 100% natural pine wood, which has been proven to lower the heart rate and thus ensures a restful sleep. All other rooms are fitted with local walnut, maple and ash wood and wooden floors.
Waste separation at Juffing
We regularly train waste prevention and waste separation. We have been pressing composites and cardboard boxes ourselves since 2019. Together with our suppliers, we make sure that we use reusable containers instead of disposable containers.
Regional suppliers and companies at Juffing
Wherever possible, we work closely with partners in the area – from local electricians to farmers who supply us with natural delicacies. This means that local value creation and transport routes are short. We generally carry out new construction and conversion work with craftsmen from the region.