harry´s home Bischofshofen
Salzburgerstraβe 12
5500 Bischofshofen
Salzburg, Austria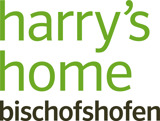 The harry's home Bischofshofen is located directly in the centre of the modern holiday and sports town. A special highlight is the sauna area with terrace and view of the Paul Ausserleitner ski jump, which attracts thousands of visitors every year for the Four Hills Tournament. The train station is also directly opposite the hotel. The location therefore not only allows for a comfortable and sustainable arrival by public transport, but thereby also offers the perfect starting point for excursions in the beautiful Salzburger Land. In summer, cycling enthusiasts can rent e-bikes at the hotel and reach numerous cycle paths with just a few pedal strokes. By the way: if you arrive by public transport, you will receive a welcome drink from us upon presentation of your ticket.
When booking, you have the choice: thanks to the modular system and true to the motto "Create your stay", you can choose your room from numerous room types with different furnishings. All rooms have one thing in common: plenty of space! We have large rooms with walk-in wardrobes, which can even be equipped with their own kitchenette if desired, and flats with up to 2 bedrooms.
Thanks to the service point with washing machine, dryer and co., no one at harry's home has to do without freshly washed laundry, ironed shirts or a dryer. There is also a vending machine with all kinds of daily necessities, cold drinks and ready-made meals and snacks for those in-between times.
In harry's living room there is a bar for drinks and selected snacks, cosy lounge furniture, a fireplace and games for hire. The breakfast menu and bar are also available to locals daily. Meanwhile, the youngest guests can let off steam in the children's playroom with its underwater design: in addition to a wall bars, they will also find a ball pool, a Tonie box (figures can be borrowed from reception), all kinds of games and painting utensils and much more.