Hotel im Wald Hammerschmiede
Hammerschmied-Straße 9
5102 Anthering
Salzburg, Austria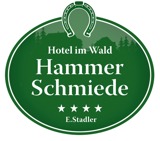 Welcome at the Nature Idyll Hotel Hammerschmiede ****
With its unique location, only 9 km away from Salzburg, great air to breathe and an enjoyable silence, you'll find yourself in a small paradise. Where once the hammers of blacksmiths echoed, nowadays the hotel "Hammerschmiede" can be found, right in a romantic forest, and it's opened all year long!
In addition to seminars, hydrotherapy and swimming in the floating creek and numerous hiking paths are also available. To get to Salzburg you can choose among the quite cheap transfer methods to the city.
Spacious rooms and suites in elegant country-style, a woodland terrace, cosy dining rooms, kitchen with delicious regional food and a rich biological breakfast are part of our service.
The former forge has been redesigned to be a romantic guest room for parties and celebrations. Culinary delights are prepared over open fire and if you wish, you'll receive your own forged horseshoe which will bring you luck!