Der Kirchheimerhof – superior Refugium
Maibrunnenweg 37
9546 Bad Kleinkirchheim
Carinthia, Austria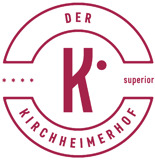 Your holidays in the natural jewel in the "Biosphärenpark Nockberge!
Warm hospitality, unique spacious location & real culinary delights that is "typical Kirchheimerhof".
We have always invested in a sustainable infrastructure.This is personal very important for us. We are in a wonderful panoramic location, surrounded by 70,000m² of self-managed natural area. Our panoramic view to a wonderful alpine world and the mountains of the Nockberge is unique in the region. The regionality of our raw materials obtain from local producers is our recipe for the excellent "Kirchheimerhof cuisine".
Our passion is to create your beautiful and unforgettable holiday moments while preserving the resources and beauty of our region for future generations.