Natürlich Hell Camping & Aparthotel
Natürlich Hell.
Gageringerstraße 1
6263 Fügen
Tyrol, Austria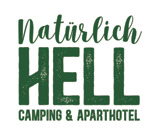 Naturally beautiful
Surrounded by forests and meadows, with a clear view of the Zillertal Alps, "Natürlich Hell" is a place of well-being all year round.
A 5-star campsite with spacious comfort pitches, modern washrooms. In addition, a high-quality fitness and gymnastics room, indoor and outdoor play areas, spacious pools swimming lanes, a modern spa area and a chill corner to sort your thoughts.