Hotel Ortners Eschenhof
Wasserfallweg 12
9546 Bad Kleinkirchheim
Carinthia, Austria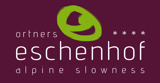 Ortners Eschenhof **** - Alpine Slowness
Experience a holiday with a new sense of time at the Ortners Eschenhof!
"Slow down" – switch back a gear – unfortunately this is getting increasingly difficult in current times. In Austria's sunny south, in Bad Kleinkirchheim, the host family Ortner addresses precisely this issue.
They have developed the concept of Alpine Slowness and take guests out of the "treadmill" of everyday life. The cosy hotel in the Nockberge has set itself the aim of gifting its guests a new quality of life in and with nature, so they can relax consciously, find time for each other and enjoy themselves.
At the Ortners Eschenhof, dogs are also part of the family. Four-legged companions are welcome at the family-friendly hotel and will feel at ease here.
"Alpine Slowness" also applies to the Eschenhof cuisine. Slow Food and Social Food are the keywords.
The Eschenhof cuisine has been awarded the Green Toque.
Wellness treatments gain a whole new quality as part of the Alpine Slowness concept.
From treatments with natural hay to a Carinthian Speik bath, wellness experts bring the treasures of the surrounding nature into Eschenhof.
Alpine Slowness – time for me, time for you, time for us… Wind down, indulge your body, mind and spirit, revitalise yourself, have all the time in the world – where better to do so than at a SPA that has dedicated itself to the motto of "Go.Slow".