Seeglück Hotel Forelle
Fischergasse 65
9872 Millstatt
Carinthia, Austria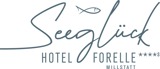 YOUR TIME-OUT AT THE LAKE
We'll set your clock to me-time. Arrive, change your settings to our time zone, and start jettisoning the things that weigh you down.
The view of Lake Millstätter See alone is proof that you have left the daily grind behind. Your personal time-out is finally here! We all need to step off the hamster wheel every now and then. The fresh air from the lake is also the first step towards new energy.
#homeoftimeout
ROOMS WITH A BLISS FACTOR
On the one hand, hotel rooms are supposed to do lots of things. On the other, it really isn't rocket science:
Box spring beds to offer you the best night's sleep possible, paired with a fresh breeze from the lake to strengthen your lungs and boost your overall sense of well-being. All you need to do is open your window! And to top it all, there is the panoramic view of the lake – truly a sight for sore eyes!
#sleepwithviewsofthelake
SEEGLÜCK HOTEL FORELLE
We regard it as a privilege to be living right at the water's edge. For generations, we have made it our mission to share this privilege.
With people from all over the world who come here to spend a few carefree days with us. To experience lakeside bliss, to get a taste of what lakeside living means to us. Here in Millstatt, guests will capture more than a fish or two – expect one-of-a-kind moments of happiness and lakeside bliss, that hallmark of the Seeglück Hotel Forelle. Once you've experienced it, you'll be back for more!
#lakesidebliss