Pictet Asset Management SA
Freigutstrasse 12
8022 Zürich
Switzerland


Pictet Asset Management is an institutional asset management specialist providing investment solutions and services worldwide. Pictet Asset Management manages a broad range of equity, fixed and alternative investments and multi-asset strategies up to a value of approximately € 165 billion. We have over 900 employees in 17 branches, including 7 asset management centers (Geneva, Zurich, London, Milan, Singapore, Tokyo and Hong Kong).
Since 1997 Pictet Asset Management has developed two types of sustainable investment approaches. On the one hand, we have earned a good reputation in the field of broadly diversified sustainable portfolios. On the other hand, we are pursuing a thematic approach that focuses on environmental issues.
In 2007, we augmented our commitment to sustainable investments by signing the UN Principles for Responsible Investment (UN PRI), an initiative that provides a framework for investors to integrate ESG issues into their investment decisions and shareholder activities. Environmental, social and governance (ESG) considerations are increasingly seen as an integral part of investment decisions.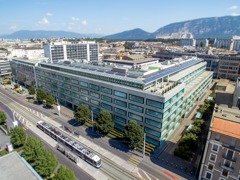 Pictet-European Sustainable Equities - LU0144509550 (I EUR), LU0144509717 (P EUR), LU0208609015 (P dy EUR), LU0144510053 (R EUR), LU0258985596 (Z EUR)
Der Pictet-European Sustainable Equities fördert Unternehmen mit einer attraktiven Produktmischung aus Bereichen wie CO2-armen Energiequellen, gesunder Ernährung und medizinischer Ausstattung. Unternehmen aus der so genannten Junk-Food- oder Tabakbranche werden gemieden. Die Firmen in unseren nachhaltigen Portfolios aus Europa sind 35-40% weniger kohlenstoffintensiv und ESG-Kontroversen wie Bestechung und Korruption deutlich weniger ausgesetzt.