Pictet Asset Management SA
Freigutstrasse 12
8022 Zürich
Switzerland


A focused multi-boutique asset manager
Pictet Asset Management is a specialist asset manager offering investment solutions and services to investors around the world.
Today we manage CHF 177 billion/EUR 167 billion/ GBP 148 billion/ USD 183 billion of assets across our range of pioneering and differentiating investment capabilities. We don't do everything, rather we focus on the areas where we can add value for our clients. Our investment resources are focused around our strategic capabilities: Absolute Return, Thematics, Emerging Markets and Multi Asset.
Our mission is to build lasting partnerships with our clients by exceeding their expectations for investment performance and service. Our clients include some of the world's largest pension funds, sovereign wealth funds and financial institutions.
We have 1,007 employees spread across 17 offices worldwide including 7 investment centres (Geneva, Zurich, London, Milan, Singapore, Tokyo and Hong Kong). We are part of the Pictet Group, founded in Geneva in 1805, which also specialises in Wealth Management, Alternative Advisors and Asset Services. Privately owned and managed by seven partners, the Pictet Group has more than 4,690 employees in 28 offices around the world.

Data as of 31st March 2020
A commitment to sustainability
Environmental, Social and Governance (ESG) considerations are increasingly seen as an integral part of investment decisions. We therefore launched a program in 2013 to integrate these ESG criteria, which aims to promote and support their use by sharing critical information (such as corporate governance and controversial issues) with all our investment teams. The program also includes the systematic exercise of voting rights and the exclusion of companies involved in the manufacture of controversial weapons.

For more information please visit our website: www.am.pictet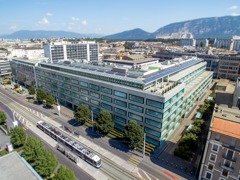 Pictet-European Sustainable Equities - LU0144509550 (I EUR), LU0144509717 (P EUR), LU0208609015 (P dy EUR), LU0144510053 (R EUR)
Pictet-European Sustainable Equities invests in companies with an attractive product-mix in areas such as low carbon energy sources, healthy food and medical equipment. Companies from the so-called junk food or tobacco sectors are avoided. The European companies in our sustainable portfolios are 35-40% less carbon intensive and significantly less exposed to ESG controversies such as bribery and corruption.