Fidelity International
Mariahilfer Straße 36
1070 Wien
Vienna, Austria

Fidelity International is a leading asset manager for institutional and wholesale clients. Offering world-class investment solutions and retirement expertise has been the core of our business for over 50 years. We work for our clients across Asia Pacific, Europe, the Middle East, and South America and it is our main objective to help clients build a better financial future for themselves and generations to come.
We believe that by investing in companies which operate with high standards of corporate responsibility we can aim to protect and enhance investment returns for our clients. Through our rigorous bottom-up research process we gain an in-depth understanding of ESG (Environmental, Social and Governance) issues at a company level before they escalate and potentially threaten the value of our clients' investments.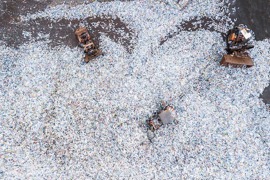 Fidelity Funds - Sustainable Water & Waste Fund
ISIN: LU1892829828, LU1892830248, LU1984161858, LU2016206943, LU2016206604, LU1892829315, LU1998886177, LU2009125274, LU2009125514, LU1915587072, LU1915587155, LU1892830164
The FF - Sustainable Water & Waste Fund is a fund where the sectors benefit from secular growth trends - very few Funds are exposed to both themes. The Fund seeks to be globally over-exposed to names with high ESG ratings according to Sustainalytics*. It offers the potential to grow capital in a way which has a tangible positive impact on the future of our planet. Our competitive advantage relies on the Fidelity's robust research platform, as well as on the Portfolio Manager's experience to spot opportunities in two under-researched sectors.
*Sustainalytics provides us with research and company ratings based on ESG factors. Each company is rated on an A-E scale (A being best in class and E being the lowest) based on industry specific analysis and relative to peers within that industry and within the Fidelity universe. These scores are customised for Fidelity to take greater account of high-profile ESG-related controversies such as environmental disasters, product safety recalls and bribery scandals. High ESG performers are typically defined as companies rated A, B or C. However, analysis conducted by the portfolio manager and the analyst may lead to a different conclusion than external ESG rating agencies.