Novomatic Forum + Café Bar Luigi´s
Friedrichstraße 7
1010 Wien
Vienna, Austria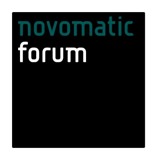 The Novomatic Forum, a prestigious landmark building in the heart of Vienna, impresses with its unique architecture and stylistic elements of art nouveau und art deco.
A classy setting for every event. The ambience combines the charms of the past with those of modernity. Therefore organisers of business, public and private events offer their guests a unique setting for unforgettable experiences. The banquet hall provides enough space for up to 300 guests and thereby an ideal setting for celebrations, exhibitions and many other events. The Salons Schmid, Aichinger und Privé are available for smaller events.
Every space is equipped with state-of-the-art event technology, elegant furnishing in terms of design elegance, including support of a professional team.
We are geared to a careful handling of resources and minimisation of environmental impacts by our own business operations.
Convince yourself and visit our homepage www.novomaticforum.com to get a first impression of our building.