Austria Center Vienna
Bruno-Kreisky-Platz 1
1220 Wien
Vienna, Austria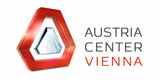 Austria Center Vienna: the nation's first green conference centre
In April 2014 the Austria Center Vienna became the first conference centre in the country to acquire the Umweltzeichen eco-label for conference and meeting venues. Protecting the environment and adopting a sustainable and ecologically sound approach to doing business is at the heart of Austria Center Vienna's operations. The award also took into account the facility's commitment to society and its treatment of employees. As an official Green Meeting and Green Events certification partner, the Austria Center Vienna encourages its customers to have their events certified and supports them throughout the process. Organisers also benefit from the additional points allocated to their events thanks to the Austria Center Vienna's status as a certified green venue. As a licensed Green Meetings and Green Events certification body, we can certify events that meet the requirements of the Austrian Umweltzeichen eco-label.
130 Green Meetings during the EU Presidency in 2018
A major part of the conferences of the Austrian EU Presidency took place in the Austria Center Vienna and all 130 events were certified as Green Meetings. So, conferences with 36.000 delegates were conducted especially resource-saving, energy-efficient and waste-avoidant.
Room to grow ideas
Big ideas need the right rooms – the key to the success of every event. The Austria Center Vienna offers 19 halls, 180 meeting rooms and more than 26,000m² of exhibition and networking space with a capacity for 22,800 people on 5 levels. This wide range of halls, rooms and outdoor spaces at the Austria Center Vienna is unrivalled in Europe, and that versatility of rooms means event concepts can be tailored to both conventional and innovative meeting formats. The Austria Center Vienna ensures outstanding knowledge transfer as well as personal and digital networking in a relaxed atmosphere: 100 Mbit Wi-Fi is provided free for each event. The digital infrastructure, unique in the world, is also perfect for hybrid congresses and events.