Green Esprit / Dr. Gabriele Meßner-Mitteregger
Kaiserallee 15c / 12
Kaiserallee
9201 Krumpendorf am Wörther See
Carinthia, Austria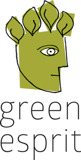 Dr. Gabriele Meßner-Mitteregger founded "Green Esprit" in May 2015.
The services of Green Esprit consist of:
• Organization and implementation of economic and educational events of all sizes
• Checking the suitability of these events for a "Green Meeting / Event" in accordance with the Austrian Ecolabel; Showing the need for action; Accompanying or consulting for the fulfillment of the environmental criteria; certification as "Green Meeting / Event"
• business consulting in sustainable matters.
• classic public relations
• project management
The office is located in Carinthia. The field of activity is Austria and beyond.
Contact: www.green-esprit, gmm@green-esprit.com, Tel. +43 (0) 664/4054208