Kongresskultur Bregenz GmbH
Platz der Wiener Symphoniker 1
6900 Bregenz
Vorarlberg, Austria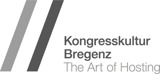 Kongresskultur makes Bregenz Festival House one of the most creative, innovative and emotional venues for national and international events. Here, event organisers and their visitors get to experience the Art of Hosting.
The name says it all: Kongresskultur Bregenz. As a modern congress centre, it sets standards in the area of service, green meetings and architecture. The creativity and know-how of the personnel help even ambitious aims to be met at Bregenz Festival House. A unique atmosphere of creativity and emotion pervades the whole place. At this unmatched location on the shore of Lake Constance we create fascinating spaces for experiences to remember – for as many as 4,500 guests – and offer a kaleidoscope of new event formats, for cultural and social occasions, for conventions, conferences and corporate events.
Awards by institutions like the European Association of Event Centres (EVVC) and the International Association of Convention Centres (AIPC) attest to the innovative and open spirit of Kongresskultur Bregenz.
The art of being an excellent host
What is needed for the many stages and spaces to be filled with life, and to create events that are memorable, is a culture of togetherness. The secret of successful collaboration is listening and the ability to define a customer's ideas and to give life to them in concrete events. This competence in consultancy is what sets Kongresskultur apart. Our understanding of service as partnership goes beyond the role of a host. For its customers and visitors, Kongresskultur Bregenz is an adviser, consultant and friend. "The Art of Hosting" is consequently more than just a slogan.