Congress Centrum Alpbach - Alpbach Tourismus GmbH
Alpbach Tourismus GmbH
Alpbach 246
6236 Alpbach
Tyrol, Austria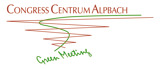 Congress Center Alpbach - Sustainable meetings in the mountain village of Alpbach
The congress location Alpbach in Tyrol / Austria offers ideal conditions for the realization of meetings, which are aligned according to principles of ecology and sustainability.
• Congress and Conferences
• Corporate events and conferences
• Exhibitions, roadshow
• Special Events and Incentives
In addition, the Congress Center Alpbach is a licensee of the Austrian Ecolabel for Green Meetings. Our team offers implementation and certification of green meetings as well as a delicious and varied cuisine with regional products.
In addition, organizers can fall back on a mobility concept based on a regional bus, which is for free.