Austria Center Vienna
Bruno-Kreisky-Platz 1
1220 Wien
Vienna, Austria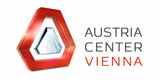 About IAKW-AG
Internationales Amtssitz- und Konferenzzentrum Wien, Aktiengesellschaft (IAKW-AG) is responsible for maintaining the Vienna International Centre (VIC) and operating the Austria Center Vienna. The Austria Center Vienna is Austria's largest conference centre: with 24 lecture rooms for between 100 and 4,320 participants, 180 meeting rooms and 22,000m2 of exhibition space, the Austria Center Vienna has a total capacity for around 20,000 participants.
Focus on sustainability
Protecting the environment and adopting a sustainable and ecologically sound approach to doing business is at the heart of IAKW-AG's operational approach. We make every effort to take sustainability into account in our corporate culture, communication and day-to-day business, ensuring that it shapes everything we do. We are also committed to inspiring organisers to take a proactive approach to sustainability at their events. As a licensed "Österreichisches Umweltzeichen Green Meetings and Green Events" certification body, we offer our customers practical assistance, helping them to meet the guidelines and acquire Green Meetings certification for their events.
An abstract of our sustainability and Green Meeting measures:
Implementation of a concept designed to cut energy consumption
Using district heating for the heating and warm water supply that cuts CO2 emissions by around 9,000 tonnes a year
Electricity from renewable electricity sources (100% hydropower), CO2 free, no nuclear power
Phased replacement of fluorescent strip lights with LEDs
Central control room which is manned 24 hours a day to ensure optimal lighting, heating and air-conditioning for events
Supply of toilet flushes with non-potable water
Waste separation and waste disposal according to waste management concept
Sustainable procurement of papers and print work
Usage of Green IT (Energy Star or TCO certified products)
Selection of partners based on their individual sustainability policies
Promotion of public transportation options from the moment of arrival until departure
Electric vehicle charging stations to support environmentally friendly travel to and from the venue
Short delivery distances due to the one-stop-shop principle
First Green Conference Center
Austria Center Vienna was awarded first Austrian Eco-label for conference and meeting venues. Venues certified in accordance with that UZ 203 must show that they comply with a raft of economic, environmental, social, cultural, quality and health and safety requirements, and that they have adopted various related measures.
130 Green Meetings during the EU Presidency
A major part of the conferences of the Austrian EU Presidency took place in the Austria Center Vienna and all 130 events were certified as Green Meetings. So, conferences with 36.000 delegates were conducted especially resource-saving, energy-efficient and waste-avoidant.
A certified venue
Austria Center Vienna: the nation's first green conference centre
In April 2014 the Austria Center Vienna became the first conference centre in the country to acquire the Umweltzeichen eco-label for conference and meeting venues. Protecting the environment and adopting a sustainable and ecologically sound approach to doing business is at the heart of Austria Center Vienna's operations. The award also took into account the facility's commitment to society and its treatment of employees. As an official Green Meeting and Green Events certification partner, the Austria Center Vienna encourages its customers to have their events certified and supports them throughout the process. Organisers also benefit from the additional points allocated to their events thanks to the Austria Center Vienna's status as a certified green venue.

See the world through your delegates' eyes – your one-stop-shop
Austria's largest conference and event centre always puts delegates first. We create the ideal environment for knowledge transfer and successful networking – both face-to-face and virtual – in a highly appealing, environmentally friendly setting. Thanks to the support of our partner enterprises, we are able to provide a one-stop-shop offering joined-up concepts that really bring your event to life, from the moment of arrival until departure. Our aim is to inspire your guests, which is why each cog is perfectly aligned to the next at the Austria Center Vienna: location, spaces, equipment, partners and team.
As a licensed Green Meetings and Green Events certification body, we can certify events that meet the requirements of the Austrian Umweltzeichen eco-label. For further details, visit the Umweltzeichen website at
http://www.umweltzeichen.at/cms/de/green-meetings-und-events/content.html?akt_id=35301