Kulturhaus Dornbirn
Rathausplatz 1
6850 Dornbirn
Vorarlberg, Austria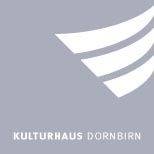 For years, we have been trying to make the most resource-efficient use possible at Kulturhaus Dornbirn. Our partners also strive to be as environmentally friendly as possible. Our catering uses exclusively local products and always offers a seasonally matched range of organic products and fair-trade food.

The central location in the city and the optimal connection to the network of public transport also enables an environmentally friendly alternative for the transfer of visitors.
Our maxim is customer satisfaction. This includes the careful use of natural resources. Our green meeting offer is an integral part of our portfolio.