Event Boutique
Tuchlauben 8, Top 403
1010 Wien
Vienna, Austria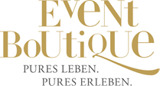 EVENT BOUTIQUE.
UNIQUE CELEBRATIONS. FOR ALL YOUR SENSES.
For more than 12 years, Event Boutique has been providing innovative ideas and exceptional settings. We create events for you to enjoy and experience with all your senses. However, perfect sensation requires smart planning. It is the responsibility of Event Boutique to analyze the company and the target group. We make sure to work out the perfect mix of marketing and advertisement. With the right marketing/setting, your event will be a success to be talked of! And it will be remembered for a long time.
Within its own organization, Event Boutique seeks to reduce the use of resources such as energy, power and water and also to minimize the environmental effects of waste, chemicals and CO2. We promote corporate social responsibility on every single one of our various economic levels. Together with our business partners, we recognize the valuation and the respect for diversity regarding gender, ethnicity, religion, physical disability or sexual orientation.
"Our motto: Quality instead of quantity.
Each event is unique. It is your event."