Event Company Opitz & Hasil
Brehmstraße 12/4
1110 Wien
Vienna, Austria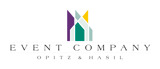 We love our guests! We love our customers! We love our employees!
"Traditionally one step ahead." So we see ourselves and so we act. It is our passion, to inspire you and your guests with sophisticated events, creative cuisine and special locations. Here we concentrate on the traditional roots of Austrian hospitality and on the modern spirit of enterprise with international standard. Or in other words: We love what we do. And what we love is to surprise, to inspire and amaze our guests and customers.
An appreciative use of all resources and participants belongs with us – from the fair, friendly relations in our team, on transparency and handshake quality to our customers to the regional purchasing policy. 2011 we already were awarded with the eco-label for Green Meetings & Green Event. But now we go one step further - or rather two steps. We also proudly own the eco-labels for Green Catering and Green Location.