Beate Biffl Film- und Videoproduktion
Bachgasse 8
7052 Müllendorf
Burgenland, Austria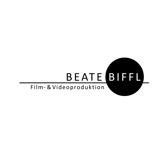 Behind Beate Biffl Film- and Videoproduction stands a colorful team consisting of creative personalities from the TV industr. For 20 years, telecasts, trailers, imagefilms, art installations and advertisements have been produced.
Our production team thinks differently. Quality-, value- and eco-consciously – that's our work ethics as well. With a high standard of quality and with respect towards nature. For the purpose of treating resources with caution, we are attempting to minimize our ecological footprint in the best possible way. Therefore, we produce sustainably.
On shooting days, our production crew either travels publicly, carpools or drives with a CO2-free engine. We use energy-saving electric appliances while shooting and in the post-production, print on recycled paper, clean with eco-friendly cleansers and our makeup artist solely uses ecological products. We don't drink coffee made of capsules and eat a vegan or vegetarian diet – preferably with regional products – on shooting days.
There is no planet B. No alternative. That's why we act in the best possible manner in order to leave an intact environment to the next generation.
Energie-TV - Das Info- und Servicemagazin der Energie Burgenland