HWT Großküchen Reparatur, Wartung & Verkauf e.U.
Betriebsstraße 2
2440 Gramatneusiedl
Lower Austria, Austria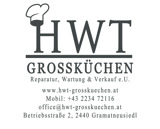 HWT Großküchen was founded in 2014 by Mr. Mario Wilpernig and the young company now has 18 employees.
The company is not only a service partner of the Electrolux & Rational company since the beginning, but also specializes in covering ALL needs in the area of canteen kitchens.
The planning of kitchens, as well as the implementation of assemblies and the repair of equipment, are just as much part of their duties as the delivery of all consumables to the storeroom.
The customer care also includes the creation of cleaning plans, safety data sheets and hygiene training.
We are happy to support our customers in the trend towards environmental protection.
HWT ECO Gläser- und Geschirrreiniger