Best in Food
Mittellinie 159
26160 Bad Zwischenhahn
Germany

About Best in Food
-Innovative, customer-oriented, future-proof-
Best in Food GmbH was founded in 2011 as a nationwide supplier of general and individualized packaging solutions as well as hygiene and cleaning products for the German convenience market.
Positively driven by our proximity to our customers and our self-image to act as their problem solver, we can now look back on a rapid and successful company history.
Stagnation means regression. True to this motto, we continue to develop together with our customers on a daily basis. In doing so, our DNA is characterized by the fact that we always provide the appropriate solutions or develop them ourselves through distinctive communication with the customer and recognition of current and changing market requirements.
There is no such thing as impossible. This is exactly what makes Best in Food's success story. The added value for our customers always comes first. We break rules by looking at economic strategies in a completely different way.
We are neither WKZ-driven nor do we focus on pure sales. The word "Best" in our company name is indicative of this. We think about what our customers actually need for optimal business development and compile our product range and services accordingly. It is not about what the industry would like to place on the market, but about what really works. You could also call it a business model based on the Pareto principle.
The range of satisfied customers, some of whom have been with our company since it was founded and have placed their trust in us, includes small businesses and end consumers as well as key players in the industry and large chain stores.
This customer composition has had a decisive influence on the entrepreneurial development of the Best in Food GmbH.
For a long time, we no longer only act as a supplier of packaging solutions or cleaning agents.
Today Best in Food offers:
Individual small / large customer support and supply in the areas of packaging, cleaning, store accessories and convenience articles (product brokering in own central warehouse, as well as data exchange via EDI interfaces possible)
Broad product portfolio on the subject of sustainability and environmental protection
Bulging filled online shop for everyone with best prices
Closed concept for sustainable cleaning and hygiene (ÖKO CLEAN)
"Location is looking for a concept"? We have the solution. THE JUNGLE, our self-developed, turnkey and scalable food&convenience concept
Unique and exclusive self-service food vending solutions (e. g. salads, pizzas, fries) for highly-frequented locations and optimization of area profitability in gastronomy, hotel industry, canteens and many more
Our own technology world with many innovative technical highlights and digital solutions such as Digital Signage and Self Labeling Systems
… and we never get tired!!!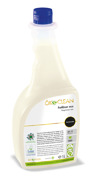 Öko Clean Fettlöser eco
The "Öko Clean Degreaser eco" is an environmentally friendly, highly concentrated and ready-to-use cleaner for the effortless removal of heavily oil-contaminated surfaces. The grease remover is ideal for the environmentally friendly and at the same time effective regular cleaning of grills, ovens and combi steamers. It effortlessly dissolves burnt-in oil and grease as well as encrusted gravy on all alkali-resistant surfaces.
We would especially like to point out its environmentally friendly ingredients and effective mode of action.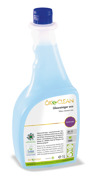 Öko Clean Glasreiniger eco
The "Öko Clean Glass cleaner eco" is a ready-to-use, surfactant-free and cold-resistant glass cleaner. It is ideal for all window and glass surfaces, e.g. for display cases as well as mirrors. The product dries quickly and without streaks. Moreover, the resoiling is reduced. For example, oily and greasy dirt, as well as silicone residues are removed effortlessly.
We would especially like to point out its environmentally friendly ingredients and effective mode of action.
Note: Not suitable for plexiglass and monitors.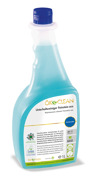 Öko Clean Unterhaltsreiniger Feinstein eco
The "Öko Clean Maintenance cleaner Feinstein eco" is an environmentally friendly floor cleaner for all non-alkaline sensitive surfaces or floor materials such as porcelain stoneware, ceramic tiles, cotto, clinker, screed, etc. In addition to the removal of "normal" soiling, the "Öko Clean Maintenance cleaner Feinstein eco" is also particularly suitable for the removal of oil and grease stains on heavily used surfaces.
We would especially like to point out its environmentally friendly ingredients and effective mode of action. The 1l concentrate has a particularly high yield. For normal soiling, 20-50ml to 10l of water is already sufficient for a perfect cleaning result.
Furthermore, this cleaner is compatible with our separately available, automatic dosing system for the perfect production of the required cleaning solution. For manual dosing, a compatible dosing attachment is available.
Note: Not suitable for alkaline-sensitive soils as well as wood and cork surfaces