Rohrauerhaus
Grünau 40
4582 Spital am Pyhrn
Upper Austria, Austria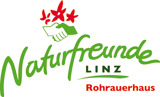 The "Rohrauerhaus" is one of three cabins owned by the Naturfreunde group Linz. It was named after the scythe smith Alois Rohrauer, who was born in Spital and was a co-founder of Naturfreunde Austria. The cabin which was originally built in 1924 was completely destroyed by a fire in 1933. The reconstruction began in 1955 and was completed in 1957.
The cabin, which is situated at 1308m above sea level , at the foot of the mountains Großer Pyhrgas and Scheiblingstein, can be accessed by foot. The hiking tour leads through a romatic gorge, called "Dr. Vogelgesang-Klamm". Access by car is only possible up to the parking lot near Bosruckhütte. From there it takes about 50 minutes by foot. It is considered an ideal destination for families because of the location. The "Pyhrgas Gatterl", which is only a short walk away, invites visitors to linger and to enjoy the marvelous panoramic view of the surrounding mountains.
The Rohrauerhaus is also an ideal point of departure for moutain and ski tours to "Großer Pyhrgas" (2244M) and "Scheiblingstein" (2197M), or a challenging and somewhat dangerous hiking tour crossing the Pyhrgas . The cabin offers a separate winter room for ski tourers. Over the past few years targeted investments were made in the improvement of the ecological standards of the building and its environmental-friendly operation. Waste water problems could be solved with a connection to the local sewerage. The water supply facilities are state of the art with separate tanks for drinking and recycled water, a UV disinfection plant and water-saving fixtures. The required energy is drawn from the sun via a photovoltaic system. The new windows have highest energy-levels. Additionally, meals and beverages of regional origin are served. The Rohrauerhaus can be reached by train via Spital am Pyhrn or via Ardning. Furthermore, the cabin is declared as a "natural quiet zone" without any cell phone coverage, which many guests regard as very pleasant.