Chef Partie Catering
Am Messezentrum 6
5020 Salzburg
Austria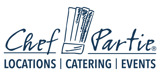 Organic is more, Organic is in demand, Organic is top
... if it is about pleasure, well-being and environmental consciousness.
With time, we have noticed that consumers are becoming more conscious about what they put into their bodies. A lot of people value high quality, healthy food, and prefer regional produce. Eating in harmony with nature!
We, at Chef Partie, stand behind this philosophy. We pay close attention to sourcing the highest quality products and ingredients. This has even been officially confirmed!
A list of honours and certificates we have been awarded can be found on our homepage.
Organic is GMO-free
Do you have high standards for yourself and your guests? Then go organic!
Organic is natural, free of genetically modified products, and free from pesticides.
Organic is top choice - Live an Organic Lifestyle
Catering of organic dishes is the icing on the cake for any event - not only for "Green Events" or events with specifically high standards. Organic catering is the best decision any host can make.
TOP NEWS: Chef Partie is the sole caterer of the World Karate Championship 2016 in Austria. This is a proof that organic quality and modern lifestyle can align well to work together on the biggest of events.
Organic can be well tolerated
There has been a rapid increase in food intolerances and food allergies, which gives a lot of consumers a hard time in making appropriate food choices. Why make it even harder on yourself? Trust a supplier which sources only the best and most natural ingredients for their dishes. Your customers and guests will thank you for it!