KOX – Partner in Forst und Garten | Oregon Tool GmbH
Lise-Meitner-Str. 4
70736 Fellbach
Germany

Everything from a single source: Whether it's personal protective equipment, tools, saw chains and guide bars, or brush cutting - we have everything you need. In addition, we naturally also carry suitable work and protective clothing, as well as many practical tools in our range.
Similar rules apply to forestry / gardening work and quality assurance. That's why quality has absolute priority with KOX products. Every product that leaves our company has been carefully tested - from development to production.
We continuously supplement and optimise our range based on our customer feedback and experience. Of course, we also pay attention to reliable quality and regular quality controls with reputable partners. Anything that does not convince us will not be included in our range, and anything that has not convinced our customers 100% in the past will certainly not be included.
We are the reliable partner for all those who work passionately in forestry and gardening and will be happy to advise you on your choice of equipment. It doesn't matter whether it's about timber harvesting and green maintenance, or whether you are a forestry worker or private chainsaw owner. Forestry companies and state forestry organisations that carry out timber harvesting also find not only the right equipment at KOX, but also a reliable partner.
Word of quality gets around. KOX has been known in the forestry industry for over 40 years and has long been more than an insider tip among professionals. Many of our customers have come to us through private recommendations and have remained loyal to this day. We appreciate that very much.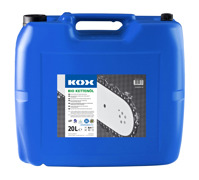 KOX Bio Kettenöl
KOX organic chain oil is rapidly biodegradable and provides excellent wear protection.
Advantages
Quickly biodegradable chain oil
Excellent wear protection
Good cold properties, therefore suitable for summer and winter use
Product details
UN-approved canister with vent valve
Viscosity: 70 mm²/s
With extraction nozzle
Container sizes: 1 liter, 5 liter, 20 liter