Mona Film Produktion GmbH
Marokkanergasse 23 Top 4&5
1030 Wien
Vienna, Austria

Every movie production starts with visions and dreams. We, the people from Mona Film, want to make those dreams come true – from the initial idea and the implementation through to the successful broadcasting of a film. As an Austrian film production company, we have already proved to be successful in four distinct genres. Apart from that, we are open for profound subjuect matter which is why we created award-winning formats such as "Die Auslöschung" ("The Extinction"), with Klaus Maria Brandauer and Martina Gedeck.
We are particularly known for a variety of entertaining and thrilling television films and TV serials, however, we have also been increasingly focused on international projects and were, amongst others, co-producers of the French cinema film "Angélique".
In the end, a successful movie experience is about the perfect cooperation of the team members – permanently employed people as well as freelancers. Thomas Hroch and Gerald Podgornig, who have founded Mona Film in 2007, have a years-long experience in the film business and look forward to realizing more films in the future.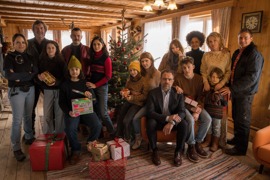 Abenteuer Weihnachten - Familie kann nie groß genug sein
"Family can't be big enough" - with this sentence, Grandma welcomes little Nina to her big, new patchwork family. Nina's mom Bea has fallen in love with Jerry, who has already been married twice and has three children. And his ex-wives Andrea and Shirin also have new partners, more children, a Horst... it's complicated. Only at Christmas was it always easy: everyone goes to Grandma's Tyrolean hut and for a few wonderful days, everyday stress and discussions are forgotten. But this year, for the first time, everyone has to celebrate Christmas without their beloved grandma and the planning ends, how could it be otherwise, in chaos and arguments. The parents have obviously completely forgotten what Christmas means, so the kids come up with a daring plan: they set off on their own to Tyrol. The adults quickly take up the chase.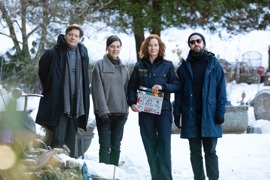 Bis in die Seele ist mir kalt - Landkrimi Kärnten
Deaths are piling up around Lake Ossiach this winter. An unknown dead woman washes up on the shore of the mini-golf course, a diabetic woman dies of hypoglycemia on a park bench and another lady is found dead in her house. All the deceased were old and alone, not least because - unlike in the past - there are hardly any places of communication in the village. No pubs, no social life - the lakeside area, so popular and lively in summer, is in hibernation. Perhaps these are natural deaths caused by old age, but policewoman Martina Schober (Jutta Fastian) and her superior Rauchenberger (Clemens Berndorff) have a feeling that something might be wrong and ask Chief Inspector Acham (Pia Hierzegger) from the Klagenfurt Criminal Police Office for help.
Although there are no clear indications of outside culpability, Acham and Martina start investigating and do indeed come across suspects. For example, the estate agent Fuhrmann (Fritz Karl), who is after the houses of the deceased, the unemployed Mario (Kevin Brand), who is always in need of money, or Jenny (Sophie Aujesky), whose boat rental business is going very slowly. Acham and Schober are supported by Ute (Alicia von Rittberg), the good soul of the area, who supplies the old people with food from her organic food store and selflessly offers them her help - and sometimes finds out more than the police. And what nobody wants to admit seems increasingly clear: the murderer must be someone from the area ...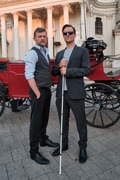 Blind ermittelt Folge 4 / 5
"Blind ermittelt - Zerstörte Träume" episode 4
Philipp Hochmair, alias ex-chief inspector Haller, witnesses a murder in his fourth case. The blind investigator helps the Vienna CID to find out who poisoned a banker. An unusual undercover assignment awaits Haller's friend and chauffeur, played by Andreas Guenther: Niko switches from cab to hackney carriage when he spies on a cleverly disguised ring of drug couriers. The top-class cast includes "Tatort" detective Florence Kasumba, "Bozen-Krimi" investigator Gabriel Raab and Karl Fischer from the "Donna Leon" series. Award-winning director Katharina Mückstein leads "Death in a Fiaker" to a highly suspenseful finale set in the dark underground of the dazzling Danube metropolis.
"Blind ermittelt - Endstation Zentralfriedhof" Folge 5
There is one day that changed the life of former chief inspector Alexander Haller (Philipp Hochmair) forever: On October 17, 2017, he lost his fiancée Kara and his eyesight in a bomb attack! When a mysterious note with the exact same date turns up on a murder victim, his successor Laura Janda (Jaschka Lämmert) asks him for help. However, tensions arise between the detective and her former mentor, as Haller believes in a conspiracy that he now wants to finally uncover. They come across a lead in the police files: On the day of the attack on Haller, there was another death! A man named Brandner, a suspect in a sexual offense, took his own life while in custody. Was Brandner really guilty, as Haller still firmly believes? And what does this have to do with the current murder? Together with his right-hand man Niko (Andreas Guenther), the former chief investigator reopens the closed case. While Haller searches for the murderer (Alexander Beyer), he is closer to him than he thinks. Because the stranger also has a score to settle with the investigator.