Private Mittelschule Sta. Christiana Frohsdorf
Wiener Neustädter Straße 74
2821 Lanzenkirchen
Lower Austria, Austria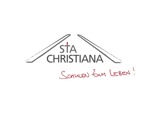 The middle school of the school association Institut Sta. Christiana is located in the middle of the countryside on the edge of the Bucklige Welt in the south of Lower Austria. In our school center in Frohsdorf the following educational institutions are located: a kindergarten, an elementary school, a middle school, a training institute for early childhood education, a college, a technical school for economic professions, an advanced course for economic professions and an after-school care center.
Our contributions to the environment, health and quality of education under the Ecolabel:
School consciously as a living space design
For many years we have been designing our school under the motto "conscious - healthy - moved".
For example, we pay attention to active breaks. In these our students find a snack hedge to pamper, comfortable seating to relax and free space to move.
We want to preserve and further develop our living space. (Projects for waste separation, recycling, visit of a herb educator, etc.)
It was important to us to make children, parents and teachers aware of how much waste is generated by each individual. On the one hand we have produced upcycling products and on the other hand we have paid attention to producing less waste. (Refillable bottles instead of disposable bottles, flower/seed pot from tetra packs, etc.) We also took part in the PILOT school competition "Class Climate Protection".
We have the eco-label because it reflects the official award for our efforts to achieve appreciative togetherness and commitment to the creation entrusted to us by God.